Complex Decongestive Therapy
Including:
Manual Lymphatic Drainage (MLD)
M.L.D. is a treatment that has been around GLOBALLY for many years. It is painless and has wonderful results for reducing the swelling in Oedema limbs.
Manual Lymphatic Drainage Therapy is a very gently effleurage massage technique.
For lymph fluid to be transported around the body through the lymphatic system, it needs muscular contraction to stimulate the lymph valves to open and shut, pushing the fluid in an upward movement towards the neck area. This is done quite easily with just your hands, gently moving over the skin, draining the excess fluid into another area of the body that is not congested and overloaded with excess fluid.
The 4 main components used in Complex Decongestive Therapy are:
Skin care
Manual Lymphatic drainage
Compression bandaging & garments
Exercise and diet
New ideas and research are always been trialed to help improve a better quality of life for lymphoedema patients.
It is important for all Oedema patients to continue with self-care management after their reduction has been achieved by the Therapist.
Lymphoedema is not curable it is only treatable. To maintain the results from the treatment, there are drainage sequences you need to apply every day. If this is not continued on a regular basis, then the fluid will slowly return causing the limb to swell again.
Special care is also needed in protecting any limb that is at "Risk" of getting lymphoedema, or has already experienced a swollen limb.
Injections, blood pressure machines and heat should be avoided on a limb at "Risk" of getting lymphoedema.
Tight fitting clothing or support garments that tourniquet any part of a limb should not be used.
How does Manual Lymphatic Drainage Treatment help improve anyone with Lymphoedema?
The following case studies are proof of this wonderful, powerful and easy to apply treatment. These are only a few of many.
All aspects of this treatment are taught in the MLDT training courses by experienced and professional lecturers. Private clinicians trained as Lymphoedema Practitioners are needed all around Australia to help out with the lack of treatment offered in our Public and Private Health System.
The Lymphoedema Academy of Australia is trying to run courses in every state of Australia to make it easier for students to attend the courses.
With most patients it will only take up to a week to reduce most early stages of Lymphoedema.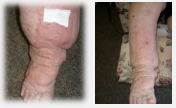 Pic 1 treatment was over 3 days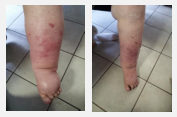 Pic 2 treatment was over 5 days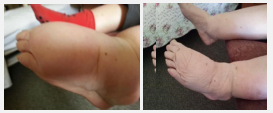 Pic 3 treatment was over 6 days


Pic 4 Bandaging and drainage done every day for 4 weeks (extreme case of neglect by medical professionals caused this patient to suffer for 5 years before contacting our clinic and getting these results).
Client has written his testimony on his 5 year journey on the following website........
"Palms Lymphoedema Clinic"
www.lymphtreatment.com.au
Pauline Wallace
Practitioner of Lymphoedema
Director/Lecturer of the Lymphoedema Academy of Australia Pty Ltd